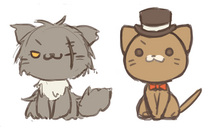 Two rejected cats have been published on Twitter by picola inc.
Zenzai
A battle-worn grey cat, with a scar across their left eye an a shaggy off-white mane. They were rejected for looking too evil. Their name means bean-jam.
Shirial
A brown gentlemanly cat, in bow and top-hat. Their name means cereal, or serial, but considering the sweets connecting the former is more likely. Discarded because they weren't cute enough.
Drafts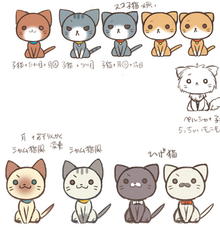 A sketch of different cats have also been thrown up for reference. Curiously, a few of these cats matches the cats on the roofs of the Diary Entry 07 and Diary Entry 08, as well as the cat tree in Diary Entry 04.